's mission is to support businesses and non-profit organizations in the development, fundraising at the international and national level, and the implementation of innovative entrepreneurial and social projects.
Our ambition is to become one of the most impactul technical support entities enabling the development of social entrepreneurship and organizations in Africa.


Developpement of projects
Support for the development of projects
SHWA works with African organizations' teams to co-create innovative projects with high social or environmental impact. SHWA supports all the project development process, from the project design to the submission of the funding application and signing of the funding contract.
We may develop projects in both French and English.
Support in the search for funding
SHWA offers a service of constant watch of funding opportunities from all around the world that may be of interest to African organizations.
SHWA may also help African organizations develop and implement their fundraising strategy and plan.
Incubation of innovations
Incubation of innovations with high social or environmental added value
African organizations and individuals often carry new ideas and concepts that may contribute to the transformation of the continent. Unfortunately, most of the time, they do not have the needed resources to test or scale their innovations. SHWA is particularly attracted to offer long-term support to these organizations and individuals to tune up, find funding, implement or scale successfully their innovations.
Support in the implementation and monitoring of projects
Facilitating fundraising for projects is only an intermediate objective; we want, above all, our clients to succeed in their project implementation. To African organizations implementing projects, SHWA offers services of project monitoring and evaluation, and drafting of reports to funders.
We may work in both French and English.
Our impact 2021-2022
25 West African Enterprises and non-profit Organizations supported
Projects in the selection process
Projects supported for implementation, monitoring and reporting
We do our best to meet our quality and deadline commitments.
We never betray the trust of our partners. We guarantee our partners confidentiality and transparent communication throughout the entire support process.
We want of partners to succeed. We do our best to safeguard their interests and contribute to their success.
We seek to contribute to the development of organizations and projects that have lasting positive social and / or environmental impacts for Africa.
Social Hub West Africa has adopted a lean management approach with a small key team supported by a dozen of project development and implementation partner consultants, including translators and interpreters.

Core Team
Chief Development Catalyst
Since November 2020, M. Ndoye is the founder and general manager of Social Hub West Africa.
From 2014 to October 2020, M. Ndoye has been the Operations Director of Enablis Senegal entrepreneurial network.
With Enablis General manager, M. Ndoye led the building of the Network in Senegal, and the design, delivery, monitoring and evaluation of Business Development Services (BDS) to more than 200 SME entrepreneurs.
He has also coordinated the design, funding and implementation of a number Enablis Senegal projects.from 2007 to 2014, M. Ndoye was a Senior Technical Adviser for the GIZ Senegal PACC/PME-PMF (Programme Promotion de la Compétitivité et de la Croissance des PME et de la Performance du secteur de la Micro-finance), a program co-financed by the European Union. He has coordinated the implementation of the PACC BDS approaches that has benefited 11 business associations and more than 1 500 small and medium enterprises.

Through his career, M. Ndoye has advised a number of private and public organizations for their fundraising and organizational development, and on public-private dialogues for project development and business environment improvement.
In the more distant past, M. Ndoye has been an entrepreneur,launching and developing a number of small businesses in the sectors of education and training, ITC, building and public works.
He has also founded and is catalysing the activities of the Senegalese non profit organization "Entreprendre", dedicated at supporting youth and women entrepreneurship.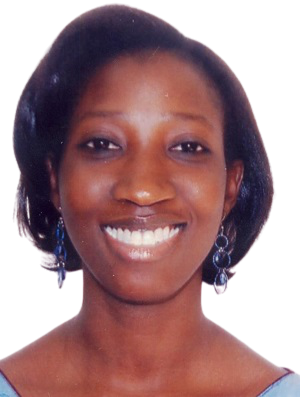 Business development Catalyst
Marie Dominique GUEYE is a management and accounting consultant and has more than 15 years of experience in business management, including 6 years in an accounting, audit and consulting firm.
Graduated in accounting and financial sciences and techniques from CNAM (Centre National des Arts et Métiers de Paris) and the Management and Corporate Strategies department of the Polytechnique Institute of Dakar, Certified Auditor Quality standard ISO 9001, Marie Dominique has held senior management and financial assistance assignments at Deloitte Senegal. She was then seconded to the West African franchise of Coca Cola and other companies which allowed her to gain good experience of management methods and techniques, capitalizing strong organizational skills, ease in working under stress and the ability to manage high-value support projects.

In charge of analysis, several years in a row, she led the firm's customer satisfaction surveys as part of the quality approach, ISO 9001 standards in support of the dynamic of improvement of the organization. Over the course of her career, Marie Dominique has also acquired a wealth of experience in Management Accounting and Corporate Strategy as Chief Financial Officer and then Management Consultant with large companies as well as small and medium enterprises (SMEs). For several years, she has accompanied project managers and SMEs managers in the preparation of business plans, administrative and financial procedures manuals, strategies and cash flow monitoring and quality, and profitability management.

099 Ouakam Cité Africa Dakar-Sénégal
info@socialhubwestafrica.com